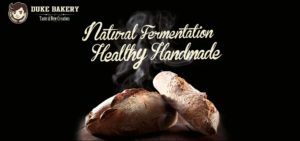 Unit
02-62
Opening Hours
11am to 10pm daily
Website
Contact
6836 6964
Duke bakery Pte Ltd
Our Story
Duke Bakery Pte Ltd first opened its doors at United Square in November 2013 and expanded islandwide with a total of 13 outlets. Combining Japanese and European baking techniques and using only high quality natural ingredients in our artisan products. Duke Bakery strives to bring healthier baked alternatives by focusing on the 3 'Low's': Low Sugar, Low Fat and Low in Calories.
Our Team
Our team of skilled bakers trained to handcraft all our breads fresh daily.
Our Ingredients
Different flours have different characteristics. We use Queen brand wheat flour from Japan which helps to give our breads the soft yet chewy texture that our customers love.
Our Methods
We use natural yeast and levain derived from fruits. These are fermented for at least 24 hours to bring out their individual characteristics.